Krokowski, White, Kucek Represent at Wrestling Nationals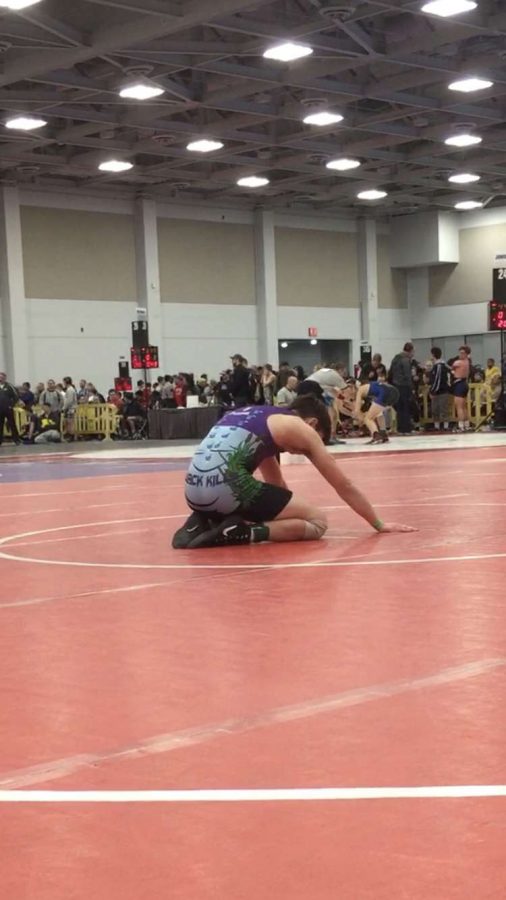 Jenavieve Pursell, Staff Writer
April 5, 2018
On March 22nd to the 25th, three wrestlers from the Wyoming Valley West team traveled to Virginia Beach to compete at the 19th Annual National Wrestling Competition. David Krokowski, Joseph White, and Cadden Kucek represented WVW at the competition.
They had the honor of attending the event and wrestling with opponents from all over the nation. All of their competitors were from other states, giving them a chance to face some new competition.
Junior and captain, David Krokowski, went 3-2 and wrestled competitors from Florida, Maryland, Georgia, Idaho, and Rhode Island. Not only was it enjoyable to face these opponents, but Krokowski enjoyed deepening the bond he has with his teammates by going on a very fun trip. "It went very well, there was a lot of hard competition but it was a great time to be with my fellow teammates," says Krokowski.
Krokowski defeated the competitors from Florida, Georgia, and Idaho. He lost to the wrestlers from Rhode Island and Maryland. "The losses were tough but it was an honor to be there. It was fun to wrestle kids from out of the area and face people from all over the nation. I have been lucky enough to go for three years now and it's always a good time," says Krokowski.
Krokowski had a record of 36-10 during the regular high school season. "The regular season was rough but it all payed off at the end, especially being able to go to Nationals," says David.
Sophomore and captain, Joseph White, went 3-2 and competed with wrestlers against South Carolina, Hawaii, Rhode Island, and Virginia. "It is a great experience to get used to a big atmosphere like that because it prepares you for a higher level," says White.
White has attended the national competition twice. "The best part was walking around Virginia Beach and hanging out with all of the wrestlers, even from different states afterwards," says White
White had a record of 33-8 during the regular high school season. "It was overall a good season. We had a lot of fun as a team which is the most important part. We may have lost a lot but we had a lot more wins than last year and we're definitely improving every year," says White.
Sophomore, Cadden Kucek went 2-2 and went against wrestlers from South Carolina, Wisconsin, Virginia. It was Kucek's first time attending nationals. "They (the competition) were all pretty tough, and it was an amazing experience to wrestle there and have fun with my friends," says Kucek.
Kucek had a record of 26-10 during the regular high school season. "It was a struggle with cutting weight but the wrestling part was fun. My goals for the future are to hopefully win districts and get 30 wins," says Kucek.