3 v 3 basketball tournament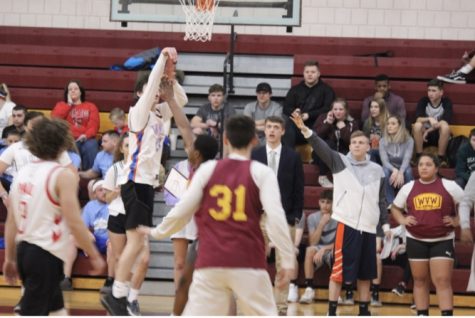 On February 28th, The Spanish and French honors society held a 3 on 3 basketball tournament.
Although other 3 on 3 tournaments have been held in the past, this was the first in years. Mrs. Evans says she hopes to make the tournament an annual thing.
With Mr. Prohaska and senior class president, Dylan Brown, on the microphone, the games were even more interesting and entertaining even to those who don't normally watch basketball.
Throughout the whole game, the stands were packed with supporters with barely an open seat. The tournament seemed to be a success already.
The ten student teams were made up of only high school students. Two out of four of the teacher teams were made up of middle school teachers including the winning team.
The student championship game came down to Ricky Leon's team The Hometown Heroes and Joseph Lombardo's team The Hoodie Squids.
The teacher championship game came down to Miss Raz's team The Hussars and Mr.Hettes' team Taking You to School.
After numerous tiebreakers and close calls, the winning teacher team was the Hussars and the winning student team was the Hoodie Squids.
Members on the Hussar's team included their captain Miss. Raz, Mr. Barilla, Mr. Casey, Mr. Wincek. The student team included captain Joseph Lombardo'20, Ruland Hamad '20,  Jumir Johnson '20, Izzy Muldowney '19, and Saquan Portee '21.
After the championship game, separate awards were given such as MVP and a Kyrie Irving Award.
Once the awards were given out the winning teacher team and student team played each other just for fun.
As a surprise to most, the Hussars dominated the Hoodie Squids.
Overall the basketball tournament was a great success and many students are hoping this becomes an annual tournament.