The Dorian Jeep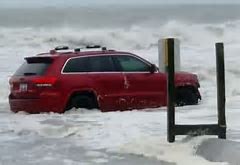 As Hurricane Dorian was approaching the coast of the Carolina's on Thursday the 5th, a red jeep became stuck on Myrtle Beach, in South Carolina. There was then a GoFundMe made for this jeep by the owners of the vehicle. Instead of using the money for replacing the jeep or anything that was damaged, the organizer or the owner of the vehicle, the money raised will go to the hurricane victims in the Bahamas.
When Hurricane Dorian hit the Bahamas, it was a raging category 5 hurricane, which devastated the islands. The hurricane destroyed everything in its path, leaving the victims of the storm homeless.
The organizer of this GoFundMe, Dee Horrell, said there was no comparison to losing the jeep to what other people have lost. "In honor of the red Jeep, we will be donating all funds to UNICEF (100% tax deductible) to help with the disaster relief in the Bahamas, as well as a direct wire transfer through the Bahamian government," said Dee.
The jeep became viral almost overnight. It is called the "DorianJeep" according to the Twitter page just made for the Jeep itself. On Thursday, by-standers became curious about how the jeep got there, as they watched the destructive waves crash into the Jeep. Dee said, " This incident was a complete accident. It was in no way done on purpose for publicity, nor was it for an insurance claim."
The actual owner of the vehicle, who did not release his name, said that he loaned his car to his cousin to take pictures of the sunrise before the storm. It didn't work out as planned, seeing that the Jeep got stuck. On Friday, the Jeep was towed by the city. The Jeep, as of Sunday, raised $820 out of the $10,000 goal.