Four-Peat for White
On Jan. 3  and 4, the Spartan wrestling team attended the two-day Wyoming Valley Conference Tournament held at Lake Lehman high school. The team had many wrestlers place, contributing to placing fourth overall as a team.
The team had placed fourth out of all the twelve teams that participated. Seniors, JJ White and Cadden Kucek came out on top for both of their weight classes, coming home with two first places. Also, five other Spartans helped lead the team to place at the recent tournament.
The following wrestler's and their placements:
1st place- JJ White and Cadden Kucek, seniors
2nd place- Ian Ratchford, sophomore
5th place- Matt Giza, senior; Zander Remakus, sophomore; Dorian Hoffman, freshman
6th place- Jaden Swainbank, sophomore
Not only did JJ White come in first at the 2020 WVC Tournament, but this is the fourth consecutive win since ninth grade.
The only other wrestler in the conference to ever achieve the accomplishment other than White, was former Spartan, David Krowkowski (Class of 2019). "It felt incredibly special to win because only one other person accomplished the same goal as me and he happened to be my best friend since we were five," said White.
JJ has had the same goal since freshman year, and that was to be a four-time conference champion, knowing it took a lot of work. "It was not really a goal of mine before freshman year, but I knew I had to continue working hard,  fully dedicating myself to the sport, and giving my all to achieve it."
Along with any sports there are always some hard spots along the way that you have to push through. "Times do get rough during the season with things such as cutting weight and just wrestling too much in general. Sometimes I have to just take a step back for a minute and take time away to miss the sport, but then get right back in to it and keep working hard," said White.
Although the matches are not over yet, a lot can still happen within the next month to finish up the rest of the 2019/2020 wrestling season.
Putting in hard work and not giving up is the key in any sport. The team's season is going well and they are looking forward to the next few meets and tournaments that are coming up.
About the Writer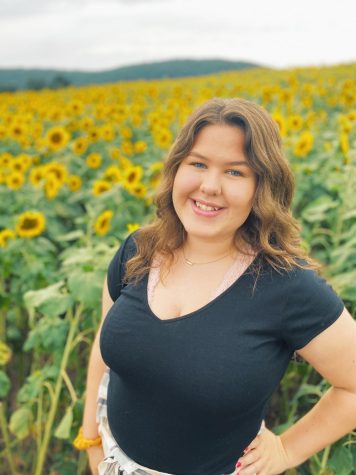 Abby Gaffney, Staff writer
Hey there! My name is Abby and I have been a part of the yearbook and journalism staff for three years now. I also have played volleyball since freshman...