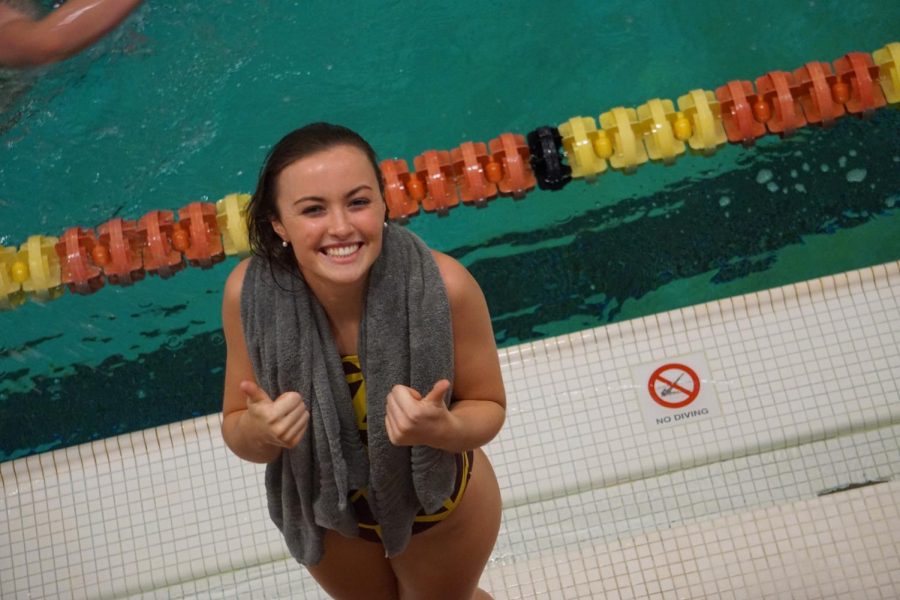 Senior diver Sophia Ginochetti has had a record breaking season, breaking her own personal record seven times. She says breaking a record is the "best feeling ever". Ginochetti has set the pool record in every pool she has competed in, along with obviously placing first.
Ginochetti is also the three time defending district champion. Her expectations for this season's districts, taking place on Saturday, February 22nd, are "to do my best on all of my dives and place first."
She has also participated in states the past two seasons. She placed sixteenth in her sophomore season and tenth in her junior season. She hopes to place in the top eight this season.
Ginochetti amazes her team, coaches, and spectators at every meet she competes at. Even when the diving board is causing her problems with her dives or she is stressed or overwhelmed, she always gives it her all.
Her team is always so proud to have such a talented diver on their team. Ginochetti says her favorite thing about diving is "the determination to beat your personal best at each meet."
Ginochetti has dedicated most of her young life to diving. She has been diving since she was just six years old. Gincohetti says her role model when it comes to diving is her dad, who also dove for Bishop Hoban and was a state champion diver in 1995.
She says both of her parents' participation in swim and dive "definitely inspired me to continue their legacy but I ended up wanting to do it for myself as well."
Ginochetti has plans to attend college at West Chester University for the next four years, majoring in business management and also continuing her dive career.