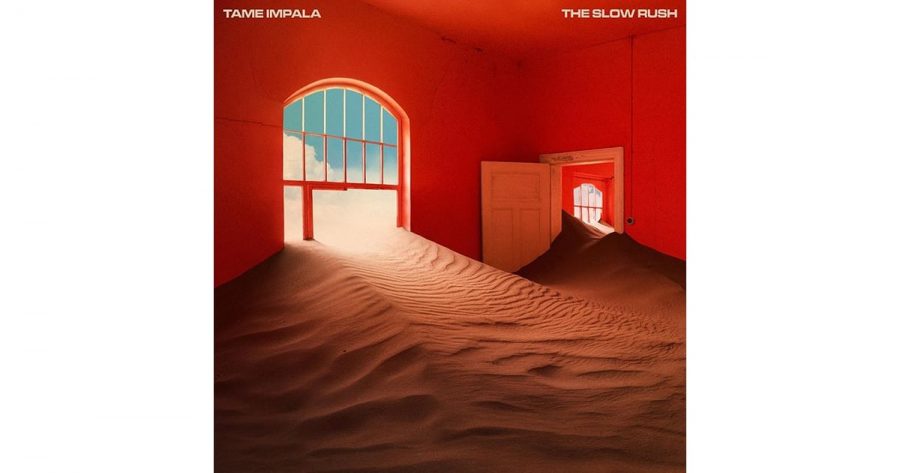 On February 14th 2020 Tame Impala released their fourth album titled "The Slow Rush". Tame Impala's last album to be released was currents in 2015, so many fans have been patiently awaiting this album.
In the songs the lead singer, Kevin Parker, deals with his self doubt and isolation.
The album addresses one of his biggest fears as an artist, perfectionists. With his 2015 album Currents, Tame Impala was met with new fame head lining music festivals and working with big artists such as Kanye West and Travis Scott.
With the fame however has come judgment and their newest album Parker sings about their struggles with newfound stardom.
From modern R&B to old Philly soul the album shows off Tame Impala's wide range of styles and ability to cover different genres.
For most of the album the songs progress slowly and at a drifting pace. Parker gives you time to let each song sit with you. For some people however this may bore them.
The chord progressions and synth in the song "Breathe Deeper" are clearly well thought out and constructed.
In the songs "It Might Be Time" and "Posthumous Forgiveness" we get a better look at Parker's mindset on growing older and not being the same young adult he was when Tame Impala was first formed.
However a song like "Borderline" gives off a lot of energy with a disco feel to it. This provides a slight break from the distant sadness in the album.
Through out the novel we also see Parker's progression from hating his father to coming to sympathizing his father. There is also a sample of a phone call between Parker and his wife in the songs. This album reflects his relationship with his family.
This album has less mainstream songs than Current. Although The Slow Rush has a few catchy hooks on it there's nothing like "Less I Know the Better" which was a radio hit.
Instead listeners may have to listen to the album a couple times to really process the music. Parker has never been one to aim for getting his songs on the radio.
Overall The Slow Rush was four out of five stars.