Support our House
     Both the girls' and boys' basketball team play in the same gymnasiums as well as the same opponents, but there is an imbalance in the amount of support the teams receive. While the boys' gymnasium quickly fills with classmates, family and friends, the girls' show limited proof of support. Why is this? "Boys put on more of a show. While we do the fundamentals well, the boys can dunk," said sophomore Toni Amato. "We play a more physical and different-styled game," explained sophomore Isaac Sosa.
     Although one team may be more entertaining to watch in some opinions, support can go a long way when playing the game. "If the crowd is cheering, it gets the team going. If there isn't anyone in the crowds, it's a lot easier to get fatigued and out of the game," said junior Alima Tikhtova.
      For some players, they play for the crowd. "I love the crowd. The crowd feeds me. If I'm not necessarily in the game, I'll go to the crowd and talk to them. I'll say 'watch this' then I'll go and score and be dramatic and fall. It's just fun. The crowd gets me going," said senior Draig Ruff.
       Some of the players look for constant supporters in the crowd. "My girlfriend, mom and my baby sister always come to my games and I love seeing them. I play for them," said Sosa. "We have a group of ladies that come to all of our games, both home and away. They found me on Facebook and asked me for our schedule this season," said Amato. "My parents and soccer coaches come and it's nice seeing them," said sophomore Jessica Shaver. "For me, Jahbaby, Momma Dukes and my little brother, Kyree Cooler, are my constant supporters," said Ruff.
     This year, players are expecting full crowds, both boys and girls. "The boys' team are really supportive of us which is nice. I think we'll have a good turnout for support this year due to the fact that we're going to have a really good season. I'm excited to see my friends in the crowd," said Tikhtova. "I know I'm going to ask a lot of people to come. The games are more fun when there's a student section," said Shaver. "There will definitely be more cheering because of the excitement I'm going to bring. I'm a senior so I'm going to make my final year memorable," said Ruff.
     For the most part, support from your school goes a long way. Both basketball teams are expecting a great season and a great turnout for our student section.   
About the Contributor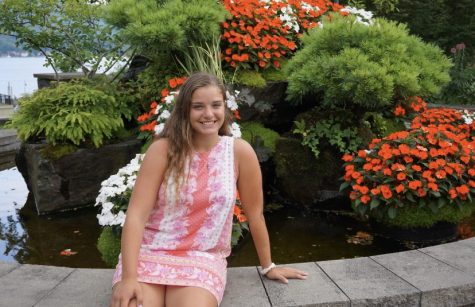 Brooke Pileggi, Co-Editor in Chief
Hello! I am currently a senior. I am the right defender on the field hockey team. After high school, I plan on going to college and majoring in Biology...