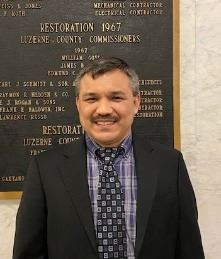 Luzerne County Councilman Stephen J. Urban has been charged with two misdemeanor counts of simple assault and one misdemeanor count of solicitation of evidence tampering after allegedly threatening a group of children and chasing them with a baseball bat.  
The alleged incident occurred on Aug. 25, and resulted from a verbal dispute between the children and a group of neighbors on North Sprague Avenue in Kingston.  Video footage obtained by police shows the incident in question.  The children are seen playing basketball in the street and three individuals, identified by Urban in a police interview as a woman living with him; her son; and a social worker, are seen walking to Urban's residence.  The video captures an exchange of words between the two groups before Urban comes into frame holding a baseball bat.  Urban is then seen chasing after the children with the bat "in swinging position" over his head, according to the police report.
An hour later, Urban is seen allegedly asking his neighbor across the street to erase any video footage capture of the incident.  The police report quotes Urban in the video as saying, "If your camera [inaudible] take it off that's all I ask, nothing to see you know."
In a police interview days later, Urban stated he has had problems with the children before, including an incident where a window was broken.  He admitted to chasing the children with the bat, but repeatedly denied asking his neighbor to erase video footage of the incident.  
After the interviewing officer indicated police had evidence contradicting Urban's claims, Urban admitted to asking his neighbor about the footage.  He also admitted wrongdoing in chasing the children with the bat.
The initial complaint made to police by the mother of a twelve-year-old chased by Urban accused him of threatening the children with a shotgun before picking up the baseball bat.  No evidence has emerged to support this accusation, and Urban denies ever having a shotgun.
Because Urban is a County Councilman, Luzerne County District Attorney Sam Sanguedolce will refer the case to the Pennsylvania Attorney General's Office to avoid a conflict of interest.
Urban is currently running for re-election to a second term on the Luzerne County Council.  It is not immediately clear how the charges will affect Urban's chances of re-election.  He has avoided publicly discussing the charges filed against him.
A Republican, Urban earned the most votes out of the top six candidates in May's primary election. November's general election ballot will feature twelve candidates, six Republicans and six Democrats, vying for six seats on the County Council. 
The current composition of the council is 10-1, with Republicans in the majority and the sole Democrat unable to run because of term limits. Republicans also hold an edge in Luzerne County with more registered voters than the Democratic Party.